---
---
If you are a cosmetologist, especially tattoo artist, you will want to know who is the master in this field and the famous tattoo artist in the world for skills and knowledge. as well as their role in the hearts of many generations of students. They are all people who have made great contributions to the development of the tattoo spray industry today.
Updated World and Vietnam Tattoo Spray Lists
1. Mr Branko Babic – PhiBrows
Good tattoo artist in the world Mr Branko Babic
The first name that Topnlist wants to introduce to is none other than the creator of the PhiBrows eyebrow sculpting method that is storming the beauty industry today – Mr Branko Babic. After discovering this eyebrow sculpture technique, he brought it to Europe and improved it. With this hand-sculpting technique, the aesthetic industry has been raised to a new level, bringing a genuine, natural look to the eyebrows.
In addition, he is the founder of the world renowned cosmetology training institute PhiAcademy. This place has trained thousands of Master in cosmetic spray industry to help bring comprehensive beauty to everyone.
Recommend the article along with the topic of cosmetic tattoo spray you should read. List of the most reputable eyebrow spray establishment in HCM? You read through the article Top 7 reputable and quality eyebrow tattoo facility in HCM then comment, get a feel for the shared addresses and services.
2. Kler Rosenberg
Good tattoo experts in the world Kler Rosenberg
Ms. Kler Rosenberg is one of the institute's first PhiBrows Master and now owns the Brow And Beauty Bar in Florida, USA. Her beauty salon is the most searched name for the keyword "PhiBrows Microblading" in the United States, showing that her reputation and skill level are very famous.
In addition, she is a lecturer at Beauty Angels Academy USA, which trains thousands of successful students in jobs from around the world. In 2018, Ms. Rosler Rosenberg was awarded the "World The Best Master" award.
3. Melissa Heward
Good tattoo experts in the world Melissa Heward
The next character is Ms. Melissa Heward. In 2009, she opened her own salon called In A Wink Beauty And Lash Lounge. Ms. Melissa Heward began pursuing eyebrow sculpture from the year of 2013 and by the year of 2016, she became one of the PhiBrows Master in Canada. She is one of the few students recognized by the "father" of PhiAcademy Training Institute to be the best and best artist in the world.
In addition, she is a direct instructor for the academy of the same name. A place for training professionals and technicians not only in the field of eyebrow sculpture but also in the field of eyelash extensions.
4. Dong Bao Tram
Good tattoo artist in Vietnam Dong Bao Tram
Grand Master Master Dong Bao Tram known as the famous tattoo artist of Vietnam. With nearly 20 years in the profession, she is constantly trying to learn, transfer new beauty technologies in the world to serve customers and apply them to train students. She does not choose to polish her name in a flashy way, but goes with her passion, quickness to the profession, bringing the most value to learners. Grand Master Dong Bao Tram belongs to the Top generation leading in the field of tattooing (eyebrows - lips - eyelids) in Vietnam.
Even becoming a Master of tattoo spraying with a series of awards both at home and abroad (Master of the best lip spray, Master of the best eyebrow sculpture, Excellent Teacher of Asian beauty) and many times as the Board of Directors Examining international-level job competitions, Tram is still not complacent but still reminds herself to try and learn more.
Currently, Miss Tram Academy (Miss Tram Academy) is being evaluated as a "a place worth studying for tattooing - cosmetic sculpture". Miss Tram with a team of lecturers with a lot of knowledge and experience is working hard to convey and shape each student at each day. Miss Tram Academy.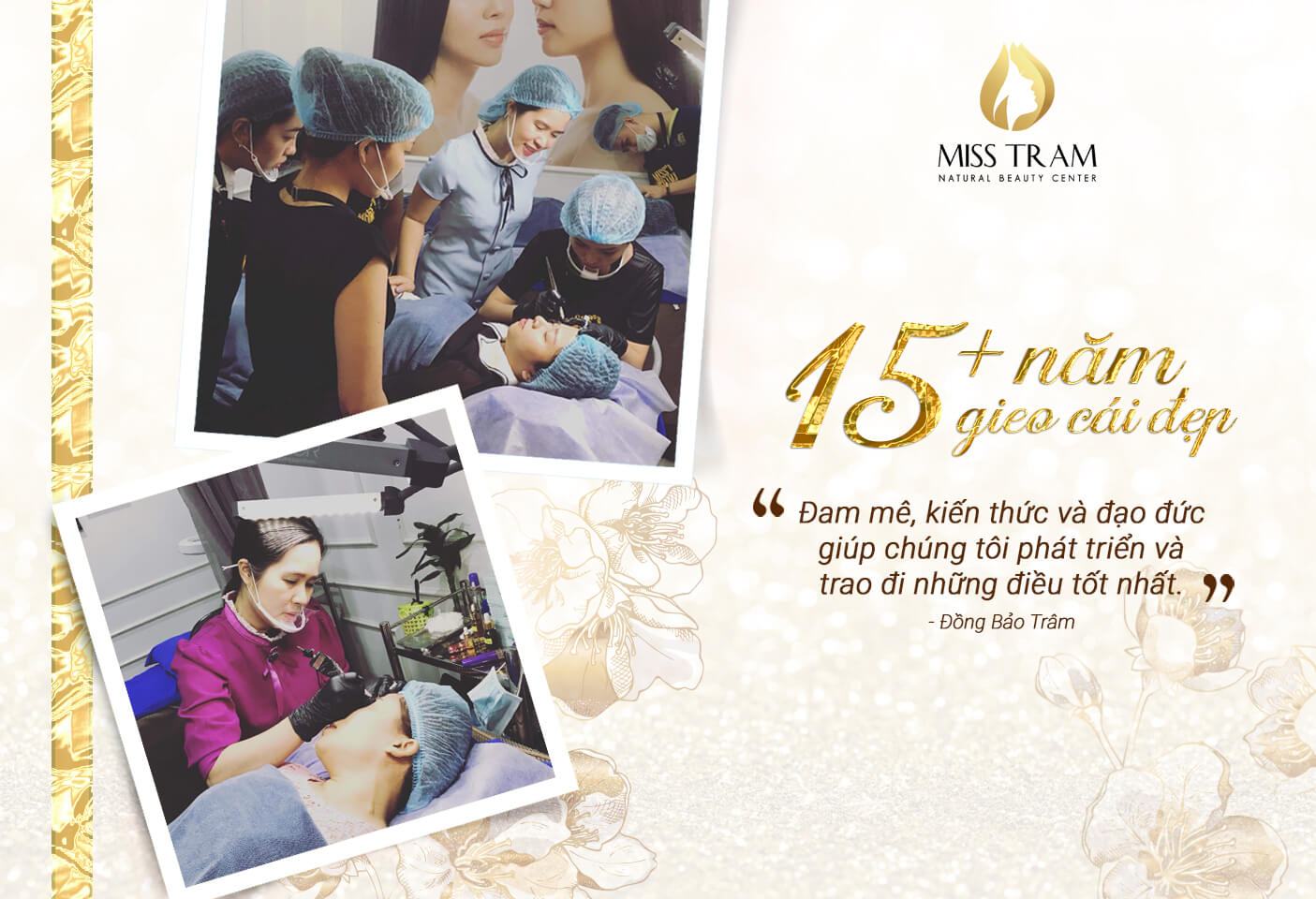 Check out more popular courses (depending on your preference) to get started with beauty at Miss Tram Academy:
Course in Tattooing, Embroidery, Aesthetic Sculpture (eyebrows - eyelids - lips).
Skincare Specialist Training and Treatment Course.
Professional Eyelash Extension Training Course - Professional Eyelash Bending.
Make-up Vocational School (Make-up).
A worth plus point for the beauty learners to note about Miss Tram Beauty Academy is that the current Miss Tram Academy's program is not only a simple knowledge, but it is her accumulated experience. Tram and the teaching staff are also senior Technicians at Miss Tram Natural Beauty Center (Established in 1999), the center operates in various types of beauty services for customers such as:
Spraying, tattooing, sculpting Eyebrow - Eyelid - Lips (Main service).
Treatment of acne thoroughly, fear of pitting for a long time (New technology + Professionals for many generations of Miss Tram family).
Skin rejuvenation (lifting muscles, wrinkle removal).
And many other beauty services.
5. Dan Tran
Good tattoo artist in Vietnam Dan Tran
In Vietnam, the name cannot be ignored is Ms. Dan Tran, she is one of the professional Masters in eyebrow sculpting that is known by many people today. Previously, she was a model then shifted to beauty industry. With continuous learning and training efforts, Ms. Dan Tran has built himself a strong "beauty empire" in Saigon.
She is frequently invited to attend famous events at home and abroad in the field of beauty aesthetics. The two International Cosmetology centers and the International Academy are operated by Ms. Dan Tran opened as one of the leading beauty centers of the country, attracting a large number of customers and students.
Some information about Master Dan Tran:
Lecturer at Dan Tran Beauty & Academy.
Top 10 Miss Photo 2007.
Top 1 prestigious address sculpture beautiful eyebrows.
Won the 2018 Gold Hand Artisan Award.
Won the most beautiful eyebrow sculpture award in Thailand.
BGK of SJ Beauty Master 2018 contest.
BGK Tattoo Ink contest in Korea.
Judges of Mr & Ms PMU 2018 contest.
BGK and catwalk training Teacher Beauty International 2018.
VIP guests at PMU World Wide Forum & Championships International Tattoo Workshop.
6. Kevin Le
Good tattoo artist in Vietnam Kevin
Mr. Kevin Le is known as a famous makeup artist for famous stars in Vietnamese showbiz. However, he turned to the path of cosmetic tattooing and became one of the famous Masters today.
During the past year, with the efforts to overcome difficulties in the profession, Mr. Kevin Le has achieved such success as: Top Top 10 of the best tattoo artist in Asia; Top 5 Asian beauty care brands trusted in Vietnam, Top 100 prestigious beauty care brands in Vietnam, Top 10 leading training institutes in Ho Chi Minh City. Besides, he also serves as a jury and adviser for domestic and international tattoo spray contests. At the same time, he was appointed as a Deputy Head of the Vietnam Fine Arts Embroidery Association.
Currently, Kevin Le Academy has become one of the institutes that attracts a large number of students, which trains high quality and well-trained students, as well as wins national and international awards.
Above are some of the best tattoo experts in the world that Topnlist would recommend to you. This list is missing a lot, because the world is vast, talented, so many but Topnlist's knowledge is limited. However, they are really very good people, helping the beauty technology industry to grow, making people more beautiful and more ideal.